After the completion of the Tshikuyu Preschool in February 2019. We started to plan for Phase 2 of the project. The preschool still needed a kitchen and eating area, swing and climbing frame for the children, a water tank and equipment for the classrooms.
Once again supporters from around the world generously donated to the next phase of the project. Donations were received from Blue Sky Botanicals (United Kingdom), EDUR Foundation (Germany), Mediceuticals (Netherlands), Lather Inc (USA), and NeoTrading (South Africa).
March 2019
On 14 March 2019 Sarah Venter and Mavis Munzhelele marked out the site for the new building.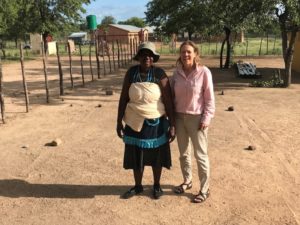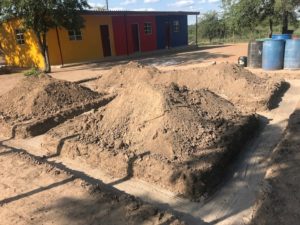 Left: Mavis Munzhelele (Principal) and Sarah Venter marking out site for new building. | Right: Foundations of new building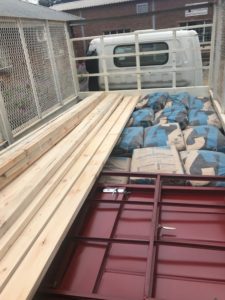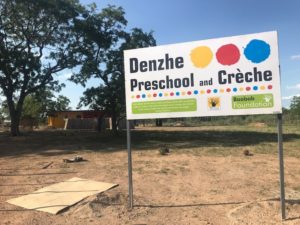 Left: EcoProducts truck delivering building materials to Tshikuyu | Right: New signboard for the Pre-school
The building was to have a storage area, kitchen, cooking area and an area for the children to eat and play out of the sun and rain. The temperatures can exceed 40 degrees Celsius during the summer months and seldom drop below 15 degrees in the winter months.
Thus it was decided to build an "open-plan" eating area so that there would be enough ventilation and a cool breeze throughout the year. Within weeks the foundations of the new building had been dug and the first bricks laid.
June 2019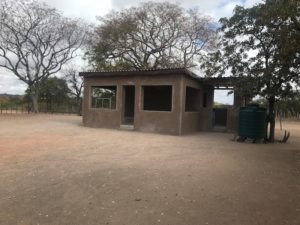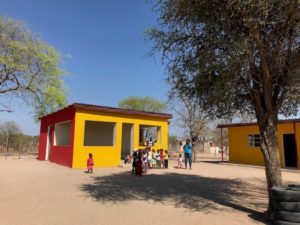 Left: Completed building |Right: Newly painted building completed and ready to be used.
By June 2019 the new building had been built and painted and the children were already enjoying playing in the new "open-plan" eating and play area.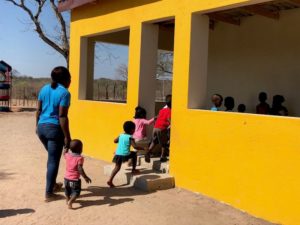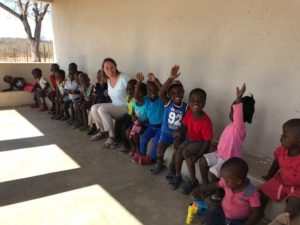 Left: Pre-school children entering the "open-plan" eating and play area. |Right: Children with Sarah.
Climbing frames and swings were made in Louis Trichardt and delivered to the preschool in August 2019. Support from NeoTrading will be used to buy tables and chairs for the classrooms.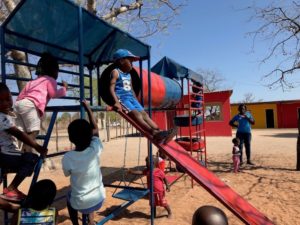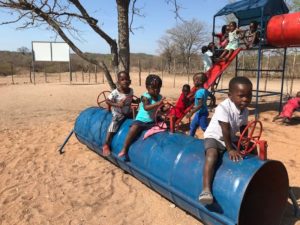 Left: Climbing Frame | Right: Train made from drums.
What a joy to see happy children having a safe place to be cared for during the day as well as an enjoyable space to play. The children at Denzhe Tshikuyu Pre-school say THANK YOU!
Read how it all began in Part 1 of this story.